FINANCE BROKING
We take the time to understand your financial needs and objectives, before recommending lending options to suit your unique situation.
Unlike going to a bank, we don't just sell our own products. We have access to innovative technology which enables us to access a variety of products from up to 30 lenders, comprising of the major banks, non-bank lenders, credit unions and many other leading mortgage providers for all finance types, compare those loan products and build different lending scenarios on the spot – you'll be able to see the differences and results for yourself.
In addition, our broker software also enables us to electronically lodge your application, streamlining the approval process so we can help you with the paperwork and expertly manage the loan process on your behalf, tracking your application and keeping you informed, so you don't have to worry.
As an accredited broker and MFAA Member we must meet a high education standard and operate under a strict code of ethics, giving you added peace of mind.
Australian Credit Licence 390781
Residential Property Loans
Whether you're buying a new property, consolidating your current debts or looking to invest to build your wealth, your new home loan shouldn't be hard work. That's why we're here to help with access to great rates, special offers and plenty of flexible features from a huge range of lenders to suit you now and in the future.
Pre-approvals for new purchases are available to give you peace of mind when you start looking for a new home.
Types of loans available: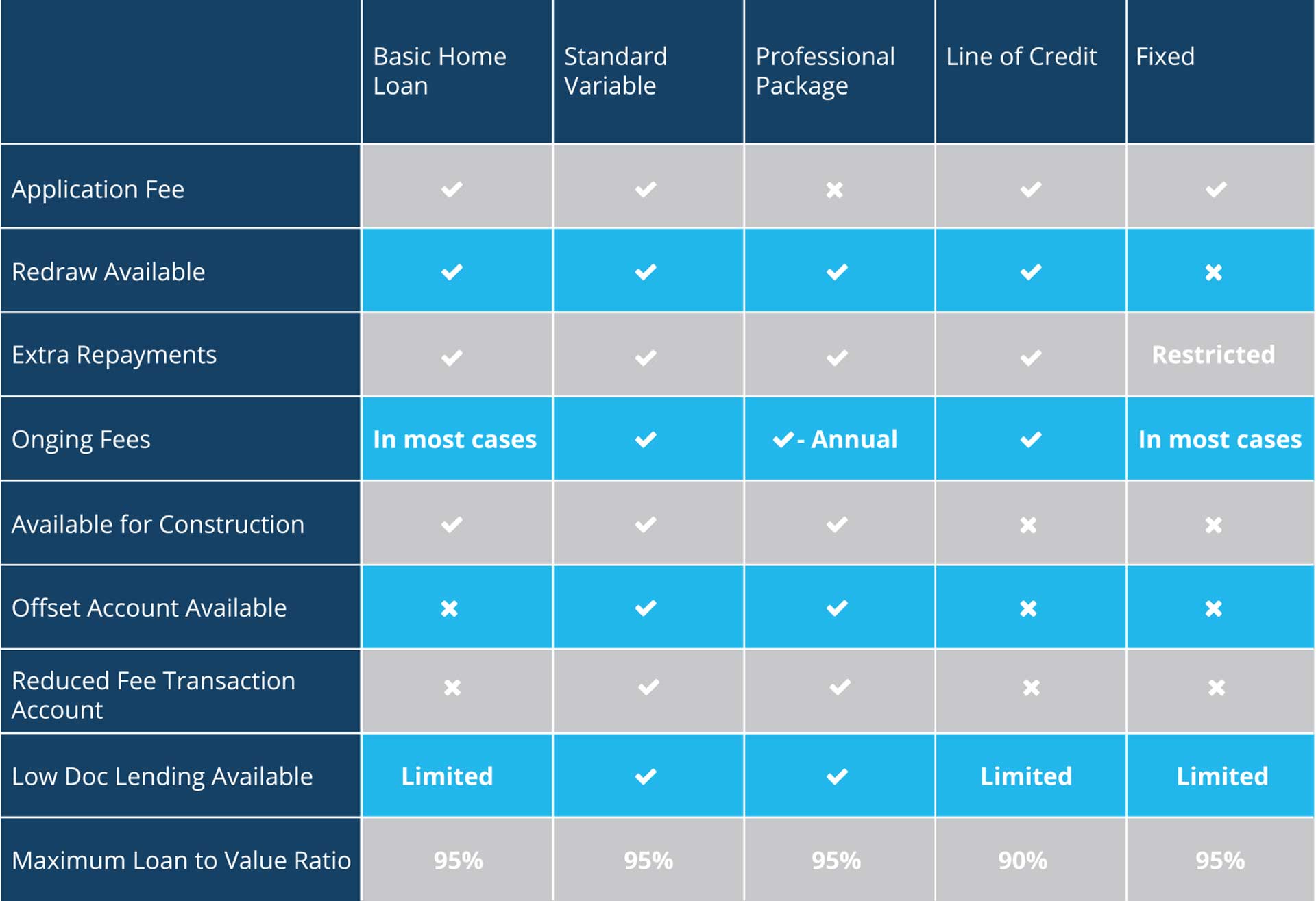 Basic Home Loan:
The Basic Home Loan is one of the most popular loans. It has the lowest running costs and less extras – so you can pay a lower interest rate. Standard Variable:
This is the most common home loan. It is usually at the lender's standard variable rate, and usually offers numerous features Professional Package:
A Professional Package offers you interest rate discounts depending on the loan size. It offers fee free transaction accounts and credit cards free of charge and a range of other special offers.
It is a misnomer that the Professional Package is just for professionals! This is not the case,
in fact, the only requirement you need to access these loans is to meet the lender's minimum loan amount (which can start at $100,000). Line of Credit:
With this type of loan, you can access funds up to your approved limit at any time. Your salary can be paid directly into the loan account and you can access the balance of the loan at any time – like a credit card. You can use these funds to purchase shares, go on holiday, buy a new car, start home renovations and much more! Fixed:
A fixed term home loan has a pre-determined, set in mortar interest rate for a set agreed upon period of time. Fixed interest home loans provide you with the security of knowing exactly what you repayments will be for the duration of your mortgage agreement.
Commercial Property Loans
We offer a suite of products with a range of features and options tailored specifically for customers looking to borrow funds for a commercial venture.
Loans can be for individuals, companies or trusts to buy, refinance or use equity of a commercial using the property as the security for the loan.
Purchasing a commercial property can be a great way to diversify your investment portfolio.
Deposits of around 30% are generally required by lenders for commercial property investment. Building repair and maintenance costs can also be higher than a residential property.
Personal Loans
For those small personal requirements such as the car you need, a way to consolidate your debts, the holiday you've worked so hard for, or the wedding you've always dreamed of, personal loans are the right choice.
Flexible payment options and competitive interest rates are available.
Vehicle and Equipment Loans
To run your business efficiently and compete in today's fast-paced market, you need the latest plant, equipment or vehicle without using your working capital to finance it.
We provide a financing solution for all types of business assets from cars to earthmoving equipment.
You can own the asset from the start of the agreement, with a loan term secured by the asset of 12 to 60 months. Balloon values can be structured to be made at the end of the period.
Quotes and applications are online and approvals can be as quick as 24 hours from submission.
Business Loans
If you're looking for money to manage or grow your business, take a look at our great choice of business finance. No matter what your business size, we can support your goals with flexible repayment terms to suit.
Debtor Finance
Invoice or Debtor financing facilities are a way to help solve the cash flow problems of small businesses that sell goods or services on credit terms without having to provide real estate as security. If you have to wait for your invoices to be paid this can cause cash flow shortages, no matter how profitable your business is.
Self-Managed Super Fund Loans
Use your Self Managed Super Fund (whether established or new) with the proper advice from your Financial Planner and in line with current legislation, to buy residential investment property or commercial property which can even be your current business premises to diversify your investment portfolio and accelerate wealth creation.
Ongoing Service
Importantly our service doesn't finish after settlement; instead we regularly review all our clients loans against current special offers to keep you on the path to achieving your long term lifestyle goals.
Credit Guide & Privacy Statement
GOT ANY QUESTIONS?
CONTACT US
Address
Cutillo House, 266 Grange Road, Flinders Park SA 5025.
Email
Phone
Fax
+61 8 8354 0276